What shame! How lame!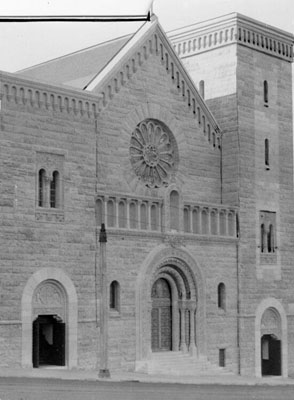 St. Brigid Church, San Francisco (1931)
There are two reasons why the Archdiocese of San Francisco sold one of the city's oldest Catholic churches ...
1) To pay for civil damages incurred by the sinful actions of mostly sodomite priests.
What shame!
2) To continue to provide social services to the needy.
How lame!
SAN FRANCISCO CHRONICLE - A group of Catholics risked arrest Friday when they formed a human chain to stop the San Francisco Archdiocese from removing religious artifacts from St. Brigid Church.

By the time the dramatic showdown ended late in the day, doors had been slammed, tears shed, and building inspectors and police called to the scene. The archdiocese, which sold the church to the Academy of Art University, said it simply wanted to remove property that was not included in the sale of the building.

Parishioners said items such as the statuary and the Stations of the Cross are sacred and as integral to the building as the granite walls.

St. Brigid, one of the oldest churches in the city, was closed June 30, 1994, due to a decline in attendance and high costs of seismic retrofitting work. The archdiocese said this year that it needed to sell the long-shuttered building to pay for clergy abuse settlements and to continue to provide social services to the needy. The church was sold to the Academy of Art for $3.75 million.
HELP ST. BRIGID website
.