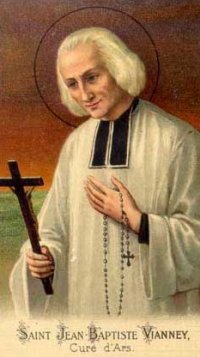 Yours truly did not post yesterday, August 4, the feast day of St. John Vianney, the Cure d'Ars, the patron saint of parish priests. Let us salute him and invoke his intercession every day.
Be sure to visit the site of the Sanctuary in Ars, at:
http://arsnet.org
The site is in French, but much of the info. is clear and the illustrations are beautiful.
Also, click on this post's title for a prayer group site whose resources include a Rosary, litany and novena for priests.
Let us pray for every priest and member of the hierarchy we know and have ever known, all throughout our lives. May God bring every one of them, and us, to Heaven. Amen.