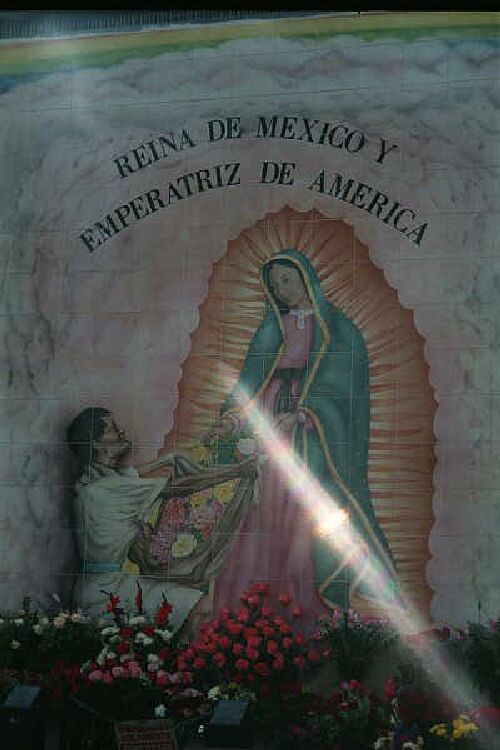 Sorry for the late notice, but let's all do our best to be in the annual procession for Our Lady of Guadalupe this Sunday, December 2.
The procession, as the Archdiocese says (click on this post's title), "has been an East Los Angeles tradition for 76 years. The one-mile long procession will begin [at 12 noon] at La Soledad Church, at 4561 Cesar Chavez Avenue, near the corner of Cesar Chavez and the Long Beach Freeway (710).
"The procession will end with a Mass [celebrated] by Cardinal Roger Mahony at the East Los Angeles College Stadium, 1301 Cesar Chavez Avenue, in Monterey Park. At the end of Mass, the faithful in attendance will be invited to venerate the pilgrim image of the Virgin with roses. For more information regarding the procession, the public may call Resurrection Parish at (323) 268-1141 or visit (www.guadalupela.com)."
There is also this important news:
"The 2007 Guadalupe Committee has extended a special invitation to all the youth in the Archdiocese to take part in the procession. A page on Myspace has also been designed by the Office of Youth Ministry at the Archdiocese,
www.myspace.com/pastoraljuvenilla,
where Catholic youth can share their feelings, thoughts and experiences regarding the Virgin of Guadalupe as well as coordinate their participation in the procession."
(The photo above is a detail of the Jubilee 2000 mural at Our Lady Queen of Angels Church -- La Placita Church, 535 N. Main St. downtown. The artist is E.J. Harpham, Pacific Tilescopes. Saw this on:
www.grconnect.com/murals
)
Bring your roses/rosas por La Virgen!