Archdiocese to release sanitized summaries of confidential files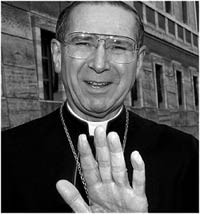 The Archdiocese of Los Angeles has turned over to the
New York Times
the "cliff notes" version of files of L.A. priests accused of sexual abuse of minors. Mahony's representatives will be releasing the abridged files to the general public in a few days, according the NY Times report.
The archdiocese is releasing them in part to make good on a promise to parishioners to come clean about the church's actions in the scandal, church officials said. It also hopes that the release will spur settlement talks, which appear to have stalled in recent months.

Raymond P. Boucher, the lead lawyer for those suing the church, said the versions of the files released by the church were cleansed of much of the damaging details of the accusations and the church's response. Their release was chiefly a public relations move by the church as both sides prepared for the first cases to go to trial, Mr. Boucher said.
"Unfortunately, these files do not contain the full story of the participation by the church in the manipulation and movement of these priests," he said. "The full files would show how deep and pervasive this problem was and how much the church put its own interests ahead of those of the children and others who were molested by the priests. That is a broader and deeper story."
The NY Times makes specific mention of the case of
Father Michael Baker
...
... who voluntarily revealed in 1986 to then-Archbishop Mahony a sexual relationship with two young boys from 1978 to 1985. Archbishop Mahony did not report the abuse to the police, but rather sent Father Baker for counseling and prohibited him from having any close contact with minors, the documents show. But he was soon assigned to parishes where he found it easy to prey on young boys again. After several more unsuccessful efforts at therapy, Father Baker was finally removed from the priesthood in 2000, but only after it was learned that he had molested as many as 10 victims over the previous 20 years.