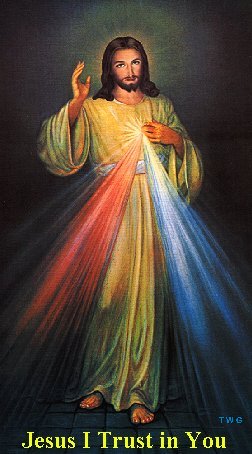 Do all your family, relatives, and friends know about Divine Mercy Sunday? Click on this post's title to go to a great site about that glorious Sunday and the entire Divine Mercy message, including the Novena that starts on Good Friday -- as well as the invitation to His mercy that Jesus has made to you and me and everyone, and the deeds of mercy He asks of us.
As we know, every one of us needs to hear and re-hear and pray about these words that Jesus spoke to St. Faustina Kowalska in 1931:
"I desire that the Feast of Mercy be a refuge and shelter for all souls, and especially poor sinners. On that day the very depths of My tender mercy are open. The soul that will go to Confession and receive Holy Communion shall obtain complete forgiveness of sins and punishment."
That is a merciful and mighty promise, and what a deed of mercy it is for us to spread it as far and wide as we can -- and, as we know, Jesus said no soul should fear to approach Him even though "its sins be as scarlet." Amen.