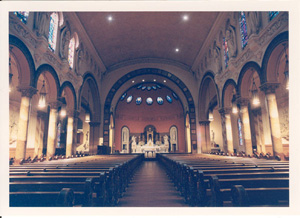 Today's (Monday) San Francisco Chronicle carries Part 2 (click on this post's title) of its three-part series on parishioners' attempt to save beautiful, historic St. Brigid Church in downtown San Francisco since the Archdiocese of San Francisco shut it down in 1994.

The story's portrayal of the actions of the Archdiocese of San Francisco is not exactly edifying. But it is essential reading for everyone who wants to know what to expect if they are ever involved in a battle to save their own church from being closed, sold out, vandalized and torn down.

Based on what has happened in San Francisco and elsewhere in our country, here is a word to the wise:

If your bishop, archbishop or cardinal has a bias against beautiful, historic, normal Catholic churches, and if he is facing huge payoffs in legal judgments for facilitating and covering up for clergy homosexual molesters, then your historic, venerable church is in big trouble.

Here in Los Angeles, our cardinal has said he will not have to close churches.

But he also said a few years ago that the beautiful cathedrals of Spain were just what he did NOT want his new cathedral to be; he has wreckovated some churches; and he is facing having to pay off more than 400 lawsuits. So we will see about our venerable churches.

In the meantime, parishioners everywhere in the USA could line up a team ahead of time to defend their historic churches, and they could raise money to have on hand.

Parishioners could also notify anyone, or the estate of anyone, who has willed, donated or paid for altar rails, stained glass windows, statues, etc., in a historic church to instruct their bishop, archbishop or cardinal ahead of time not to ever destroy, throw out, give away, sell or otherwise transfer or dispose of those items.

Parishioners could also hire Catholic professional videographers to make comprehensive, detailed film history records of every bit of their historic churches' interiors and exteriors NOW, before their diocese locks the doors and sends in the wreckers to obliterate their memory.