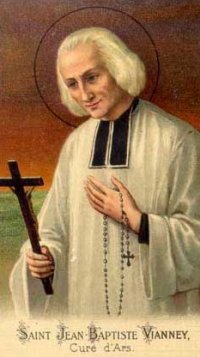 Happy Feast of St. John Vianney, the Cure d'Ars, the patron saint of parish priests. Let us pray extra for our parish priests and all priests today and every day, and do something nice for them very often.
As we know, there can be quite a bit of solitude in priests' lives, so we should be sure to keep in contact with them.
To see a panoply of prayers for priests and seminarians, and for vocations, visit the web site of the Cure d'Ars Prayer Group (click on this post's title) in the Diocese of Raleigh, North Carolina. The illustration above and the three quotes below -- all from the Cure -- are from that site.
"Oh, how great is a priest! The priest will not understand the greatness of his office till he is in Heaven. If he understood it on earth, he would die, not of fear, but of love.""The other benefits of God would be of no avail to us without the priest." "What would be the use of a house full of gold, if you had nobody to open you the door! The priest has the key of the heavenly treasures; it is he who opens the door; he is the steward of the good God, the distributor of His wealth."
Here is the link to the web site of the Sanctuaire d'Ars:
http://www.arsnet.org/
Here is the link to the web site of the Serra Club, whose members foster vocations and encourage priests and seminarians:
http://www.serra.org/