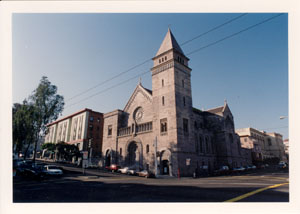 Today's
San Francisco Chronicle
carries Part 3 (click on this post's title) of its three-part series on the long effort by the parishioners of St. Brigid Church (above) in downtown San Francisco to save their 144-year-old parish and their beautiful 106-year-old church from the Archdiocese of San Francisco and from the "arts" entity to which the Archdiocese has sold the church.
Again, the story does not make pretty reading, but it is must reading for all church-preservers who want to have their blinders off in knowing how archdiocesan officials operate.
Of course, we have to figure that the Chronicle has run this story partly because of its scandal aspect. The Archdiocese does not come off well, and two leaders of the parishioners' efforts have problems: One got mad and stopped going to Mass regularly, and the other, now deceased, was an open homosexual. Further, the parish's ex-pastor praised the latter leader's Catholicism.
None of that, however, could ever detract from or invalidate the righteous Catholic cause of the parishioners of St. Brigid Parish.

Click on this link to read a letter that longtime St. Brigid parishioner Bruno Morelli wrote to Archbishop George Niederauer on February 8, 2006. Mr. Morelli's heartfelt letter conveys not only the history of the parishioners' effort to save St. Brigid Church but also their great sadness at the actions and attitude of the Archdiocese toward St. Brigid Church and toward themselves.
St. Brigid of Ireland, pray for your parishioners in San Francisco and for all of us, your spiritual children! Amen.